Looking for an easy way to expand your cooking horizons?
Follow a new food blogger today. There are now more than 2,000 food bloggers who've installed the free BigOven Recipe Plugin. As a BigOven user, you have the easiest way to save the recipes to make later. Build up your own private collection!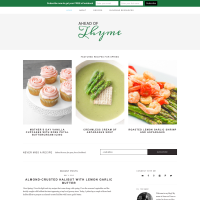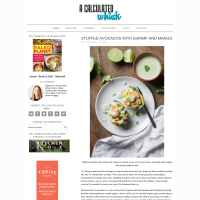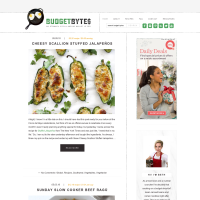 Visit any of the 2,000+ participating sites. Find a recipe you like? Click the "Save" button on the recipe detail page and it's added to your collection. You can then take it with you to the store via the free BigOven mobile apps — when you search your collection for the keywords or ingredients, it'll be there. You can even add it to grocery lists that automatically sort by aisle and are shared by members of your household.
Example
This great-looking Cheesy Scallion Stuffed Jalapenos recipe is on the Budget Bytes website:
Yum. Want to save this? Simply look at the recipe detail, and click on the Save button:
When you do that, up pops a window for you to sign into BigOven (if you're not already). Click "Save".
That's it. The recipe is saved to your collection. The ingredients, a hero photo, and a handy link to the recipe is always there, wherever you use BigOven. You can add the items to your grocery list and you're all set.  (Why not the full instructions? Read Our Pledge to Food Bloggers.)
Discover a new food blog you love, and easily save recipes to your own collection by browsing through our partner directory. You'll find great food bloggers writing about the following topics:
Baking:
www.halfbakedharvest.com, www.bakerita.com, bakelovegive.com, themondaybox.com, thebakermama.com,
www.baking-sense.com, rosebakes.com, www.bessiebakes.com, mooreorlesscooking.com, bakergatherer.com,
bakedbree.com, www.christmaskitchen.biz, www.angelicbakehouse.com. bakingamoment.com, bakeatmidnite.com
Vegan and Healthy Cooking:
www.vegrecipesofindia.com, theedgyveg.com, www.nomeatathlete.com, www.mypureveganfood.com,
www.feastingonfruit.com, thevegan8.com, www.vegkitchen.com, yesiamvegan.com, www.astigvegan.com,
naranjasylimones.es, www.spabettie.com, www.brandnewvegan.com, vanillacrunnch.com, www.theedgyveg.com,
www.vega-licious.com, yupitsvegan.com, gluten-free-vegan-girl.com, www.contentednesscooking.com, theveganyear.com
Paleo:
cookeatpaleo.com, gutsybynature.com, ultimatepaleoguide.com, www.paleoplan.com, www.jaysbakingmecrazy.com,
thepaleofix.com, www.amazingpaleo.com, littlecoconutty.com, acalculatedwhisk.com
Nutrition and Diet:
www.lowcarbzen.com, www.paleoplan.com, thepaleofix.com, sibodietrecipes.com, www.thebudgetdiet.com,
runawayapricot.com, myplantbasedfamily.com, www.jtawellness.com, www.bodyholic.at
Food Photography:
www.juliesjazz.com, www.platingpixels.com, simplybeautifuleating.com, www.whiskaffair.com,
rosebakes.com, www.hungrygirlporvida.com, www.chopstickchronicles.com
Budget Cooking:
www.budgetbytes.com, frugalfamilyfavorites.com, www.meetpenny.com, www.cheapcooking.com,
www.thebudgetdiet.com, www.frugalfamilyhome.com, dishesanddustbunnies.com, myplantbasedfamily.com
… and more!
For a complete list of Recipe Partners, see http://www.bigoven.com/site/partners. Are you a food blogger? Give your readers handy mobile features, and get free exposure with the BigOven Recipe Plugin!